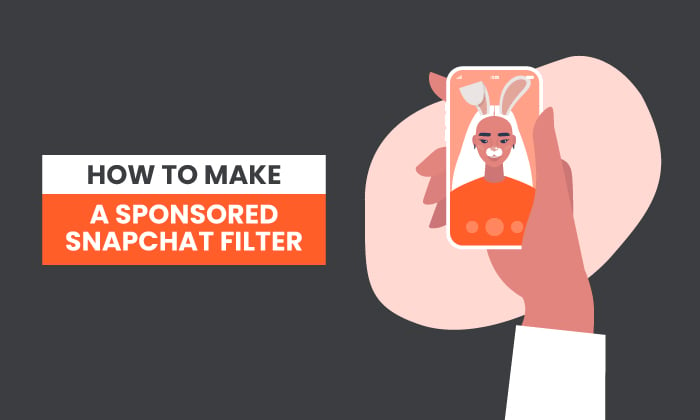 Snapchat advertising has a lot going for it. With 249 million daily active users, you can get your brand in front of a large audience. The level of engagement on the platform is equally massive. Snapchatters open the app more than 30 times on average every day. 
There are three types of Snapchat ads: Snap Ads, Filters, and Lenses. I've written before about the value each Snapchat ad can bring to your business. That post provides an excellent overview of the different advertising options available on Snapchat and whether they are worth the investment. 
Today, I'm going to get more specific. Below, I focus on sponsored Snapchat filters, how to create them, and why you should.
What Are Sponsored Snapchat Filters?
Snapchat filters are overlay images used when taking selfies. They are one of the most popular features on the app and have been responsible for driving record growth. The gender-swapping filter attracted 7 million new users days after it was released, for instance.  
Businesses can pay to create their own Snapchat filters. Each filter is available on the app for a limited period of time. Filters can also be limited to a specific area, which advertisers can set before they launch. This is called a geofilter. 
Why Use Sponsored Snapchat Filters?
There are plenty of reasons why a business would want to pay for their own Snapchat filter. 
First, they are a great way to drive brand awareness, given the kind of popularity they inspire. A 2019 study by Snapchat found filters are one of the main reasons users spend time on the app. 
They can be incredibly cost-effective. You can create your own Snapchat filter for as little as $5, meaning you don't have to be a massive brand to take advantage of them. 
Snapchat filters offer much less competition. While every business in the country has a Facebook presence, only a fraction of them are creating their own filters. They are a great way to differentiate your brand from competitors. 
Finally, Snapchat offers targeting that almost rivals Facebook. Being able to geofence your filters to a specific area, say, near your stores, means you can limit your ad spend to people who are actually likely to buy. 
How to Create a Sponsored Snapchat Filter
Creating a Snapchat filter isn't nearly as daunting as you think it is. I promise.
Simply follow my step-by-step guide below, and you'll have your filter live in no time at all. 
Load Snapchat
Head to Snapchat's Creative Tools page. Click on "Filters."
Note: You don't need to have a business account to create a filter on Snapchat. But it's in your interest to do so. You'll have more control with a business account and access to more advertising features.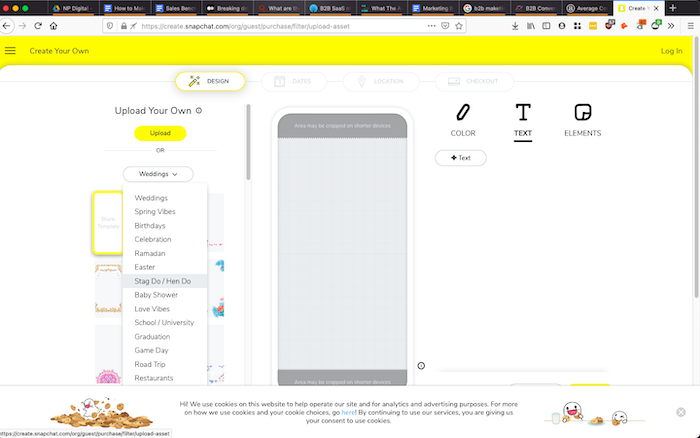 Use a Template to Create A Snapchat Sponsored Filter
Snapchat offers businesses all the design help they need in the form of templates. Use the drop-down list to find a relevant topic, then choose the template you like best.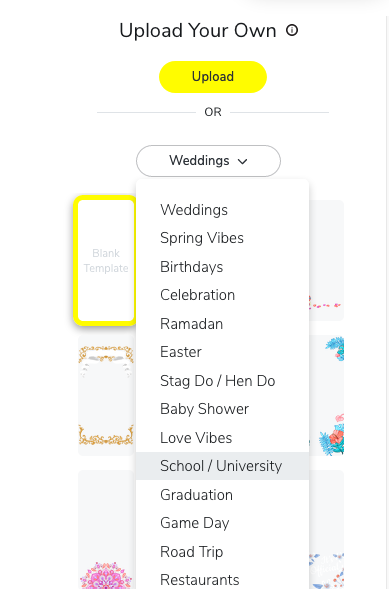 You should be able to find something to suit your tastes regardless of your industry or the kind of filter you're looking to create. 
Create Your Sponsored Snapchat Filter From Scratch
You can create your filter design from scratch if you don't like any of the templates. I recommend using a design tool like Canva, which comes with preset design dimensions for Snapchat.  
Upload your own design by clicking on the Upload button at the top of the page.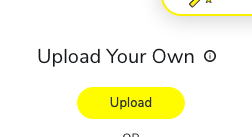 Your file size may be too big initially. If that's the case, use a tool like Compress PNG to make it smaller. 
Set Date and Time
Next, you'll need to set the date you want your filter to be available and how long you want it to run. The longer your filter lasts, the more you'll have to pay. 
Set Location
Next, you'll need to set the location for your filter. You can search for a town or monument in the search box, or you can draw an area as shown below.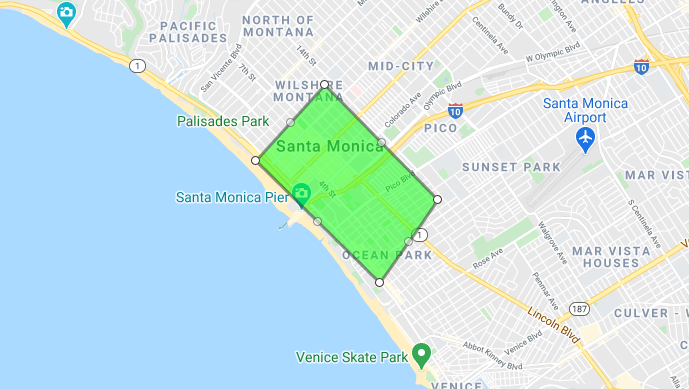 Note: The geofenced area must be smaller than 50 million square feet.
Again, the bigger radius you choose, the more expensive your ad will be. 
At this point, you'll also be shown the price of your sponsored filter.

All you need to do now is check out. It will take a few days for Snapchat to approve your filter manually, but after that, you're good to go.
4 Tips for Creating Great Sponsored Snapchat Filters
Don't rush into creating a Snapchat filter. If you want to make your filter as successful as possible, there are a few things you'll need to bear in mind. 
Have a Specific Goal
No one will engage with a filter that looks like advertising spam. You need to have a valid reason for creating your filter and a measurable goal you want it to achieve. Being clear on both factors will make designing your filter much easier and, ultimately, make your filter more successful in the long run.
For instance, if you're using your filter to promote a new product, you can find fun and creative ways of including the product. If you're promoting an event, you'll want to make sure you nail the geographic area and include the event's name in your filter so guests can show off where they are. 
Keep Specifications in Mind
Snapchat has a series of specifications your ad must meet to get approved. They include:
image must be 1080 x 2340px
file size must be 300kb or less
file must be in PNG format
at least 50% of the image must be transparent
there must be a 310px buffer zone at the top and bottom of the image
logo placement must be clear and obvious
Take time to read through these specifications carefully. There's no point going through all the trouble of designing a great ad for it to get rejected for something avoidable.
There are also restrictions brands should be aware of, too:
No gambling or lottery images.
No URLs, barcodes, usernames, CTAs, phone numbers, email, or logos of other social platforms allowed.
No hashtags allowed.
Filters should honor Snapchat's advertising guidelines.
K.I.S.S.
If there's one piece of advice you should follow above everything else, it's this: Keep It Simple, Stupid. 
The best Snapchat filters are the most simple. Don't take up loads of room with images, and don't plaster your brand everywhere. The cleaner your filter looks, the more people will want to use it. 
Check out this example from Starbucks.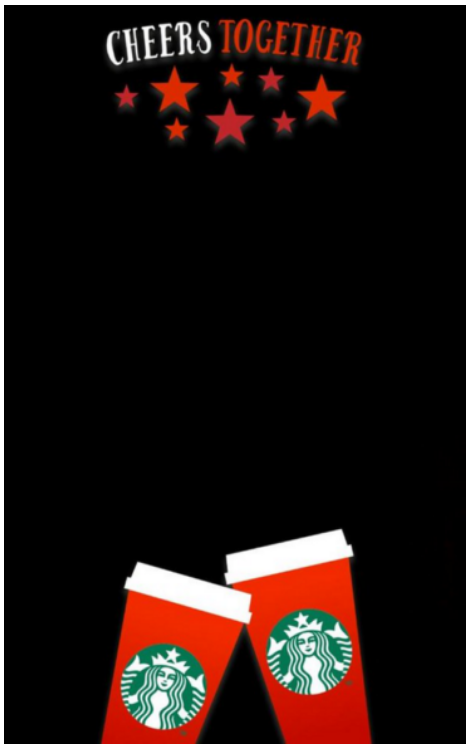 The design is so simple even I could mock this up. You can bet your bottom dollar thousands and thousands of consumers took a selfie using it, however.
In other words, you don't have to be a design genius to run a sponsored Snapchat filter. Any business owner can do it.
Measure, Optimize, and Improve
A sponsored Snapchat filter isn't different from any other form of marketing. You need to measure and optimize your ad to drive the most value. Luckily, Snapchat makes doing this easy with its built-in analytics tool that gives you access to all of the metrics you need like impressions and engagement.
You can use this data to improve your next sponsored filter. For instance, you may want to avoid regions with low engagement and invest more in regions with high engagement. You may also want to look at other metrics, like store revenue, to see what kind of impact your sponsored filters had. 
Ways to Use Your Sponsored Snapchat Filter
Are you still unsure about how to use a Snapchat filter for your brand? Don't worry; there are many different tactics you can use, and I'm going to cover a few of my favorites.
Promote Your Brand Partnership
If you're sponsoring an event like a charity run or a festival, use a Snapchat filter to make sure your name gets seen. Everyone loves to use social media to show off what they're doing, so a filter will get tons of engagement. Plus, when you brand it carefully, you'll get the recognition you deserve. 
Attract Customers to Your Brick-and-Mortar Store
You can use the geofencing feature of Snapchat, so your filter is only available to consumers within the vicinity of your stores. A fun Snapchat filter can be just the kind of nudge people need to eat at your restaurant or shop your store. 
It can also be a great way to leverage word-of-mouth marketing. If consumers take a selfie with your filter after shopping at your store, they may encourage their friends to visit, too.
If you have a lot of stores, setting up individual ads will require a lot of work. I recommend running a test program with a couple of stores to see if your filter is successful before expanding the campaign to the rest of your locations. 
Launch a New Product
Snapchat filters are a great way to raise awareness of a new product launch. Including an image of the product within the filter will help consumers to identify it easily and engage with the product without needing to buy it.
The product doesn't even need to be physical. The Terminator movie franchise created its own filter to promote the launch of "Terminator Genisys."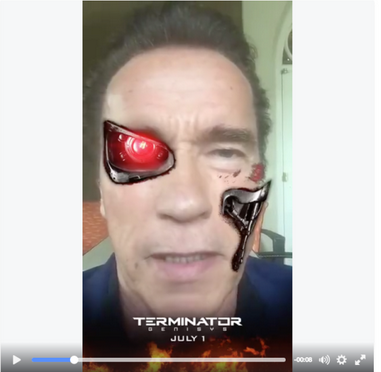 Are Sponsored Snapchat Filters Better Than Other Forms of Digital Advertising?
I highly recommend businesses experiment with sponsored Snapchat filters. As I mentioned at the start of this article, they are very affordable and are less competitive than Facebook ads or Google PPC ads. This makes them a great choice for small businesses.
Major brands can also win big with Snapchat filters, especially if you have a product that Snapchatters can interact with. McDonald's, Starbucks, and Disney have all had success with Snapchat filters. 
Snapchat filters will be particularly relevant if you target young consumers and women. Over 75 percent of 18- to 24-year-olds use the app regularly. Almost two-thirds of app users are women. 
If you are a B2B company or you target older consumers, then Snapchat probably isn't for you. In that case, you're better off spending your advertising budget on Facebook ads or Google ads, or even investing in SEO.
Otherwise, give Snapchat a go and see if it works for you.
Conclusion
Snapchat may not be the dominant social media platform it once was, but it's still a valuable addition to your digital marketing strategy.
The site still enjoys almost 250 million daily active users, and filters enjoy a ridiculously high engagement rate. That means thousands of consumers could be interacting with your brand on a daily basis.
If your brand is B2C and targets young consumers in particular, creating a sponsored Snapchat filter could be a winning strategy.
What will your brand's Snapchat filter look like?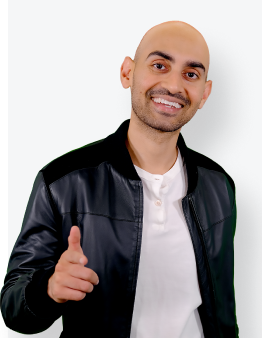 See How My Agency Can Drive Massive Amounts of Traffic to Your Website
SEO – unlock massive amounts of SEO traffic. See real results.
Content Marketing – our team creates epic content that will get shared, get links, and attract traffic.
Paid Media – effective paid strategies with clear ROI.